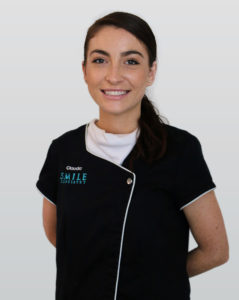 Claudia – Senior Dental Assistant
Claudia has been in the dental industry for over 4 years and started working here at Smile in 2014. Claudia has completed numerous certificates in Dental education including the Certificate III in Dental Nursing, Certificate IV in Dental Radiography and Certificate IV in Oral Health. This makes Claudia one of our most valuable and knowledgeable staff members. Claudia is able to take x-rays, teach patients about oral hygiene and home care and also has her own laboratory to make dental appliances like mouth-gaurds and bleaching trays.
Claudia is still continuing to update and stay abreast with the latest educational courses, with goals to work as a professional oral surgery nurse or work as a educator in dental education.
When Claudia isn't working she enjoys socialising, shopping and fashion and looking after her animals at home.
Marea – Senior Dental Nurse
Marea has been in the dental industry since 1995, bringing over 20 years experience to Smile.  She has been with us for over 4 years and has experience in all departments, from dental nursing to administration and everything in between. Marea works on Saturdays as our weekend receptionist.
Marea goes out of her way to make sure all patients are looked after. She loves working as part of a team and is always willing to help her fellow colleagues.
When Marea isn't working she's spending time with her partner and two dogs. She loves bike riding and cooking too.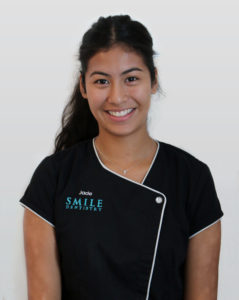 Jade – Dental Assistant
Jade started at Smile Dentistry in 2015 and has already excelled in all areas of dental nursing. Jade is a very happy and helpful member of the team and takes great pride in her work assisting the dentists. She has a calm and gentle approach, making patients feel at ease
Jade loves working as a dental assistant at Smile, especially with cosmetic patients seeing the treatment from start to finish and the smile on the patients face when they see their results. Jade loves being part of the team and enjoys working with all the girls at Smile.
In her spare time Jade enjoys painting and organising her next travel adventure.