What we do
Smile Dentistry originally began in 1980 with Dr. Christina Howard, and since then we have grown to a more diverse practice. Today we are joined by many other talented dental professionals including Dr. Johanna Ramon, Oral Health Therapists Melissa Debruyne and Chanel Beydoun, Dental Hygienists, Herbert Eugenio and Elizabeth Raikes. For added convenience, some of our doctors also speak Spanish, Vietnamese, Philippine and Arabic, so that we may better communicate with our patients. We recognise what impact a healthy, bright smile can do to your confidence and well-being – so our team remain dedicated to help you achieve your desired results. Ask about our new Cosmetic techniques, there maybe there is something we can improve in the aesthetics of your smile.
1. Our Mission
We are the leading team in dentistry today. We started as four dedicated individuals who share the common ideal of being genuinely concerned with your overall health and self-esteem. We will provide you with a dazzling smile using the finest materials, the very latest in cutting-edge technology, and the most advanced skills and services. You will receive a truly remarkable, relaxing experience while we focus on your comfort.
2. Our Objectives
We aim to provide accessible high quality dental care.
3. Our People
Here at Smile Dentistry, we have a wonderful team of Oral Health Therapists and Hygienists. Our Oral Health Team takes care of all your preventative dental needs, from scale and clean appointments to orthodontics, periodontics and teeth whitening. Our Oral Health Therapists can assist with restorative dental for children up to the age of 25 years.
Our goal is to provide a superior customer experience
When visiting Smile Dentistry you can look forward to our uncompromising dental service, backed by a high level of skill and experience. We are dedicated to delivering superior preventative, aesthetic and reconstructive dentistry in a patient-centered environment. From all our staff, we look forward to continuing to provide the very best in personal care, attention to detail, comfort and clinical excellence. Anything less is a compromise!
Get started
Meet our team
Our team of professional and highly trained dentists look forward to assisting you and your family to achieve beautiful healthy teeth for life!
Contact Us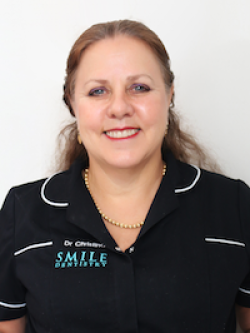 Dr. Christina Howard
Principal Dentist
Dr. Christina Howard has been practicing for over 30 years, having graduated from the University of Sydney in 1980 and has a wealth of experience in General and Cosmetic Dentistry.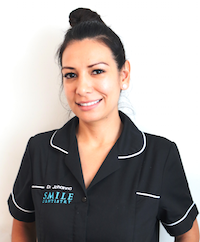 Dr. Johanna Ramon
Dentist
Dr. Johanna enjoys many aspects of dentistry, including crown and bridge work, cosmetic dentistry, and preventive dentistry.
Other stats about us
Here at Smile Dentistry, we offer a full array of dental services. These include preventative care consisting of a checkup and Hygiene care every 6 months, Periodontal treatment and maintenance, cosmetic procedures including teeth whitening, composite and porcelain veneers and Sleep Medicine. We also provide Orthodontic options for both children and adults including braces, Fast Track Clear Braces, aligners and retainers. We can also assist with crowns, implants and bridges, TMJ therapy, aids for grinding, snoring and daytime tiredness and even sports mouth guards.
Get started